Suspicious fires worry Orillia chief - A string of suspicious fires are taxing the fire department's resources and putting lives at risk, Orillia's fire chief says.
"It's taking us away from being able to respond to other emergencies throughout the city if we are needed," said Ralph Dominelli.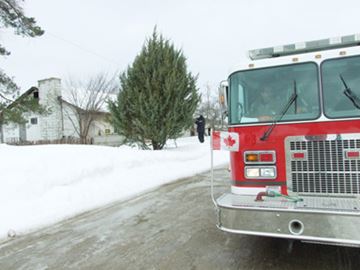 OPP and the Ontario Fire Marshal's Office are investigating another fire that broke out at a boarded-up home in the city's north end over the weekend.
The fire erupted inside an empty bungalow at 9 Ferguson Road in late February.
The house is located at the edge of the former Atlas Block property where a major residential development is planned, said Chief Building Official Kelly Smith.
"Titan Homes has purchased it and they were going to use the house as their sales office because it looks out over their whole site," she said. "(The owners) were actually going in this week to start the renovations to make it into the sales office."
Dominelli said the fire was contained mainly to the basement.
"There was no electricity or utilities to this house," he said. "All the windows and doors were boarded up. On arrival, our crews witnessed heavy flames coming from the basement area. There was plywood pried open at one entry to the building."
The latest fire happened "at the farthest point of the city," Dominelli said.
"If something happens in the south end, all our resources are up there," he said, adding "we try and get the manpower available so that we can have a truck back at Station 1, so they can take care of the rest of the city."
In previous fires at abandoned buildings, fire fighters from Rama and Severn have been called in to assist.
Dominelli noted the fire on Ferguson Road was the third in as many years in that immediate area.
The incident was also the latest in a string of fires to strike empty or abandoned buildings over the past year.
Officials are working with the OPP and the fire marshal's office to determine "if there is a possible link," Dominelli said.
"All the tools that are available to us, we are using them so that we can determine the cause of the fires," he said.
"There are definite costs to the municipality with these abandoned houses, but the big concern is we are being taken away (from) responding to other areas of the city," he said. "And there is the potential for somebody getting seriously hurt. Not just the public, but one of the firefighters, too."
Some of the structures that burned had been deemed unsafe by city building officials and were slated for demolition.
"Our concern is that somebody might get hurt or killed," Dominelli added.
Link to article: Suspicious fires worry Orillia chief