Orangeville firefighters donate equipment to developing countries - Orangeville's expired firefighting equipment will be another fire department's treasure.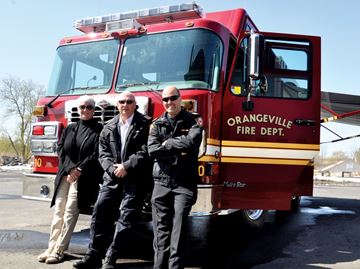 Members of the Orangeville Fire Department recently donated an array of equipment to GlobalFire, a charitable organization that helps equip firefighters and paramedics in the developing world.
"There are other communities or countries that are less fortunate and have very little to no firefighting equipment," said Orangeville Deputy Fire Chief Ron Morden. "It is a good thing that we are able to help out."
The equipment, some of which included bunker gear and other appliances such as water hose nozzles, has reached the end of its shelf life in Orangeville.
Although current regulations require the items be taken out of service here, the equipment is highly coveted in other parts of the world, according to Craig Lester, project co-ordinator for Global Fire.
"To a 3rd world fire service, it will be priceless," Lester told The Banner in an email. "The niche market and technical nature of fire, rescue, emergency medical and hazardous material handling equipment means that even small pieces can be rather expensive."
It is not known exactly where the equipment is headed yet. Lester said the items would likely be sent to countries such as Mexico, Nicaragua, Sierra Leone or the Isle of Grenada.
Morden noted the local fire department has donated some of its expired firefighting equipment abroad before. These items can help emergency responders in other countries better protect the public during cases of emergency, he added.
"You see various things that take place across the world and devastation that is taking place and very little protection," Morden said. "At least we are giving them a hand to get through those things a little easier."
Link to article: Orangeville firefighters donate equipment to developing countries