One person taken to hospital after Oshawa firefighters respond to two separate calls on Good Friday
By DurhamRegion.com
Published: March 26, 2016
Link to article: One person taken to hospital after Oshawa firefighters respond to two separate calls on Good Friday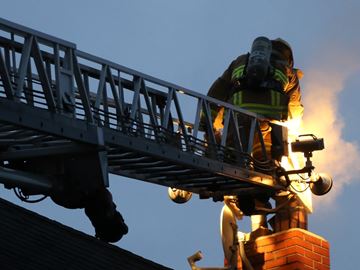 Oshawa firefighters responded to two fires on Good Friday, one a minor chimney blaze and the other a garage fire that caused significant damage and sent one person to hospital.
Around 11 a.m. on Friday, five fire trucks responded to a fire in a detached garage on King Street near Wilson Road that caused a "significant amount in damages", said Deputy Fire Chief Derrick Clark. He says the fire was under control relatively quickly but firefighters had some difficulty extinguishing it because of a large amount of firewood in the garage. An occupant of the home was taken to hospital with minor burns and smoke inhalation.
The cause is still under investigation.
Firefighters responded to an Colborne Street home around 7:30 p.m. for a chimney fire that caused minimal damage. Crews determined it was a fire within the structure and extinguished it, said Deputy Chief Clark.