Meaford woman airlifted to hospital after house fire - A Meaford resident has been seriously injured in an apartment fire.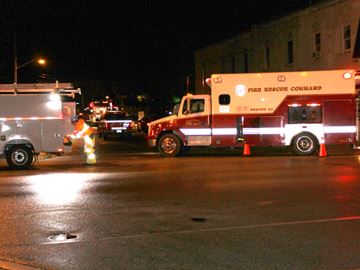 On Thursday, August 14 at 7:31 p.m., Grey County OPP received a report of an injured female suffering from burns as a result of a fire that occurred in the basement apartment of a house, which had been converted into several apartments.
The victim and another female were inside the basement apartment, located on Boucher St., West, in Meaford (behind the downtown video store), when the incident occurred. Several people were inside the building at the time. The fire was contained to the basement apartment and there were no other injuries reported.
The Meaford Fire Department and Grey County Emergency Services (EMS) assisted at the scene.
The victim, an 18-year-old female from Meaford, was air lifted to hospital in Toronto with serious injuries.
Police continue to investigate.
Firefighters continued to be on the scene late into the night.
Link to article: Meaford woman airlifted to hospital after house fire