Kitchen fire brings downtown Pefferlaw to standstill - Downtown Pefferlaw was at a standstill for almost an hour due to a kitchen fire at a Pefferlaw Road residence Sunday, Sept. 15.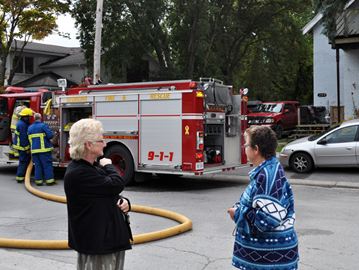 G-PEFFERLAW FIRE
Heidi Riedner
Patricia Calabria (left) and Jean Mitchell of Pefferlaw watch as Georgina firefighters quickly take care of a kitchen fire at a Pefferlaw Road residence around 11:30 a.m. Sunday, Sept. 15.
No one was injured in the incident, which was caused by a pot on the stove, according to Georgina Fire Chief Steve Richardson.
Charges were laid against the homeowner Monday for a lack of working smoke alarms in the residence.
Cooking is the number one cause of residential fires in Ontario, according to the fire department.
That theme will be driven home with valuable fire prevention tips and information during this year's fire prevention week Oct. 6 to 12.
You can also see just how easy it is to set yourself on fire by wearing loose, dangling clothing while cooking by viewing one of many public education video segments produced by the fire department in conjunction with Rogers Television.
The videos, which include topics such as home escape plans and mandatory smoke alarms, garnered the Georgina Fire Department the Bernard A. Moyle Public Education Award presented by the Ontario Fire Marshal's Public Fire Safety Council in 2011.
The messages may be short, but they go a long way to help ensure your family's safety, said fire prevention inspector and public educator Taunya Zabielski.
Visit georgina.ca/fire for more information.
Link to article: Kitchen fire brings downtown Pefferlaw to standstill