KEARNEY – Firefighters in Kearney answered a call on Wednesday night, not for a community member in distress, but for a chance to recognize their former fire chief.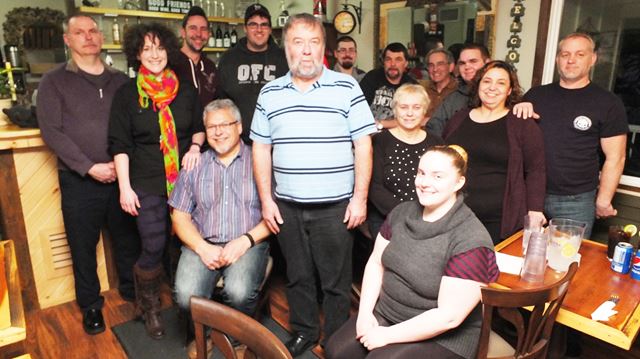 Rick Philip was the fire chief for 24 years in Kearney, until last July, but hadn't enjoyed an opportunity to say goodbye to the team he led for so many years.
"After 35 years, someone who has devoted so much time and effort to this department deserved better, especially when as far as I'm concerned it was unjust," said captain and six-year veteran Jim McGilchrist.
"When I joined the fire department it was a pick-up truck and a trailer. To see what the fire department is today with proper equipment and great people is astounding," Philip said.
The progress made with the department he first joined in 1979 is a point of pride for the fire chief, noting the first brand-new fire truck purchase was a pumper truck in 2002.
"Firefighters see a brand-new piece of equipment in the fire hall instead of someone else's and it boosted enrolment in the fire department… it brought pride," Philip said.
The gathering came at Kearney O'Neills Pub, with talk mostly avoiding the politics between the fire department and Kearney council, which fired Philip in July of last year.
Instead, the firefighters caught up with their old friend.
"Honest, straight up guy. He always had your interest at heart. He treated you more like family than a firefighter," Sprucedale fire chief and Kearney deputy chief Paul Schaefer said, adding he could always call Rick with a question, no matter the time of day.
The call Schaefer remembers after serving 20 years is being out on a blustery, dirty day watching over a downed power line, waiting for Hydro One crews to come when he saw a piece of equipment on the road.
"It was Rick in his backhoe and he moved the lines off the road so his firefighters could go home that night," Schaefer said.
Philip said he is comfortable being out of the department, but does miss it.
"I go home at night now and put my feet up. I miss the camaraderie. I miss the people and getting together. I miss taking the vehicles out and showing people what we do, what we offer – those are the things I miss," Philip said.
Other initiatives Philip was instrumental on are the regional training officer handling Kearney, Perry, Sprucedale, Magnetawan and Burk's Falls fire departments, along with mutual aid agreements in the lead up to talks of a regional fire service.
"It is long overdue… it is good for our department to bring the family together, but it is important that Rick know how much we appreciate everything he did for us," Schaefer said.
"When you join a fire department it is family and it stays family," Philip said.