Huntsville's Pow-Wow Point main lodge burned for training exercise
Article by Roland Cilliers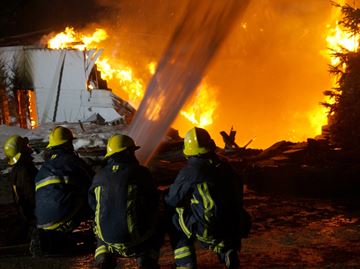 Learn how it burns -

Roland Cilliers

- A controlled burn at Pow-Wow Point Lodge on Apr. 3 gave Muskoka firefighters a chance to see a fire develop and to practice a number of live-fire drills.
HUNTSVILLE — A historic Muskoka building finished its life in a fiery but useful style.
The main building at Pow-Wow Point Lodge in Huntsville was burned down as part of a controlled burn on the evening of April 3. The resort, located on Peninsula Lake, allowed firefighters from all over the area to practise in a live fire scenario and witness firsthand how a structure burns.
Gary Monahan, with the Huntsville Lake of Bays Fire Department, said the building owners approached them several months earlier to see if they were interested in taking the building down.
"We don't generally take buildings down for kicks and giggles, but in this particular case the value of the training for us was significant. We don't get structure fires as often as we used to and for the three months we spent here the value was unbelievable," said Monahan.
"For the three months we spent here the value was unbelievable." - Gary Monahan
One of the key benefits is a controlled burn allows firefighters to see how a fire develops and grows. Normally, the crews have to be focused on extinguishing a fire and they seldom see them at the starting phase.
"On the weekend we did some live fire drills. A bunch of the rooms the department went in there and we set some fires in there and crews got some training in advancing and putting the fire out. They go through the whole procedure then would light a fire in another room and go in," Monahan said.
Before the fire was started emergency agencies were notified that it was happening. Several neighbours placed calls to 911 after witnessing the flames.
Monahan said they don't widely announce the burns as they don't want it to become an attraction.

"If we put out we were putting down a building we'd have people out with lawn chairs like a fireworks display and it becomes a circus and it's harder to manage," said Monahan.