Homes with solar power in Uxbridge to get identification decals
Fire department wants knowledge of alternate energy sources for fire defence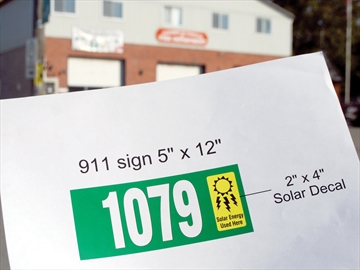 Solar decals
Shawn Cayley/Metroland
UXBRIDGE -- Properties in Uxbridge that use solar energy will soon be fitted with identification decals designed to notify Uxbridge firefighters of the power source when they arrive on scene to fight a fire. Oct. 29, 2013
UXBRIDGE -- Homes in Uxbridge Township that use an alternative energy source will soon be fitted with bright yellow decals near the entrance of their property indicating so.
That decision was made by council earlier this month at the urging of Fire Chief Scott Richardson, who says fires on solar properties offer different obstacles for his staff than a normal fire would.
He added having knowledge that a property they are investigating is fitted with solar power, or another alternate source, will help them better generate a plan of attack to fight a fire.
"The sign gives us an opportunity to stake out our attack," Chief Richardson said. "Sometimes you don't know what the source is or where the panels are located on the property. They could be behind the house, or in the barn. This will help us."
Chief Richardson said in his report to council that solar systems can vary in size from a small installation on a residential roof to installations that cover the entire roof of industrial buildings.
For identification purposes, rural Uxbridge homes will have the decals, expected to be two inches by four inches, placed on their green 911 signs located at the property entrance, while urban homes have will have them placed somewhere at the front of the dwelling upon approval from the fire department.
Fees for the decals will be incorporated into permit fees for solar power.