Fire in eighth-floor apartment in Columbus Club building
By Darren Taylor
SooToday
Link to article: Fire in eighth-floor apartment in Columbus Club building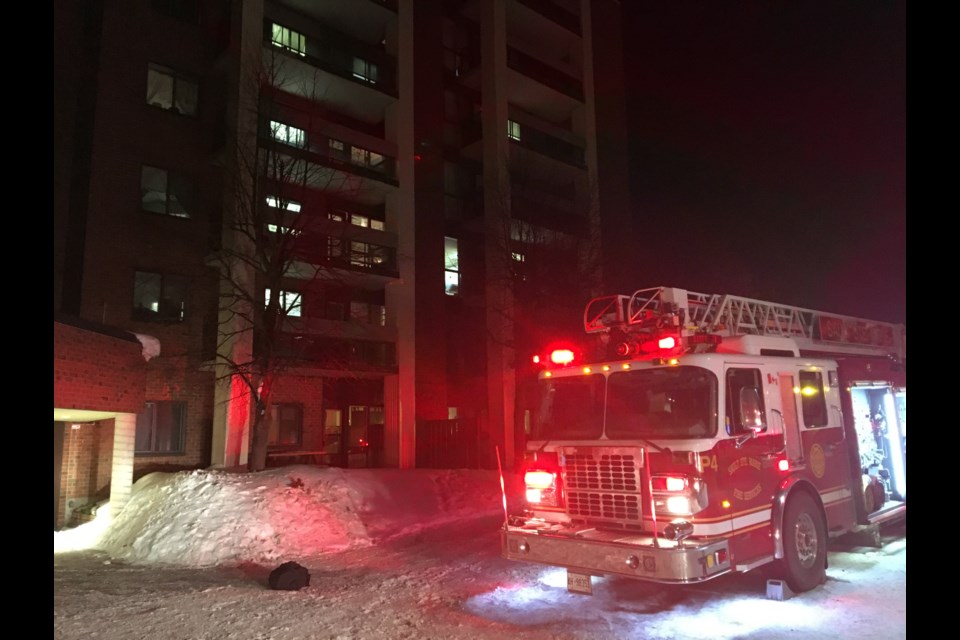 Sault Ste. Marie Fire Services Platoon Chief Chris Gillespie tells SooToday that a male tenant was in the eighth-floor apartment when the fire broke out tonight at the Columbus Club apartments.
He was treated at the scene by emergency medical services but didn't need to go to hospital.
Firefighters were called to the Columbus Club apartments at 277 Northern Ave., Building A at 6:37 p.m.
The kitchen fire was declared under control at 6:56 p.m.
Firefighters left the scene at 8:52 p.m.
Platoon Chief Gillespie says the tenant tried to extinguish the fire himself.
"The (building) superintendent was a big help. He helped the guy out, and then pulled the fire alarm notifying the rest of building. Everything went pretty smooth."
Fire Services rushed to the scene because many tenants in the building are in wheelchairs.
Gillespie said the building superintendent had attended a seminar conducted by local fire education officer Aaron Gravelle and handled the situation superbly.
"He met us at the front door and handed us a master key and a list of everyone in the building in wheelchairs."
Firefighters extinguished the blaze using a fire hose from a hose cabinet on the eighth floor.
Smoke damage was confined to the one apartment because the superintendent closed the door after leaving with the tenant.
Gillespie commended other tenants who remained in their apartments with doors closed until firefighters arrived.
That tactic is recommended in high-rise fires to prevent flames from spreading, the platoon chief said.
The Red Cross is helping the lone occupant of the smoke-filled eighth-floor apartment, who was removed from the scene with his computer, cell-phone charger and a change of clothes.
The fire is being investigated by Sault Ste. Marie Police Services.
Original story: 7:50 p.m.
Sault Ste. Marie Fire Services, EMS paramedics and police responded to the scene of a fire in an apartment complex in the 200 block of Northern Ave. on Wednesday evening.
Sault Ste. Marie Fire Chief Peter Johnson told SooToday the fire originated in an apartment unit on the eighth floor of the building.
Firefighters reported seeing an orange glow coming from the window of the eighth floor unit in which the fire was contained.
Some residents of the building took shelter inside while others left while the fire was extinguished and smoke cleared, Johnson said. He also commended the building superintendent for shutting the door of the unit to keep fire and smoke from spreading.
It is unknown at this time if there were any injuries, though two residents were seen being attended to by paramedics.
Sault Fire Services expected to be on scene for some time, Johnson said.
The cause of the fire is unknown at this time.