Back road fire protection could cost $14M
Should city taxpayers pony up the bucks to address a significant safety issue for semi-rural homes?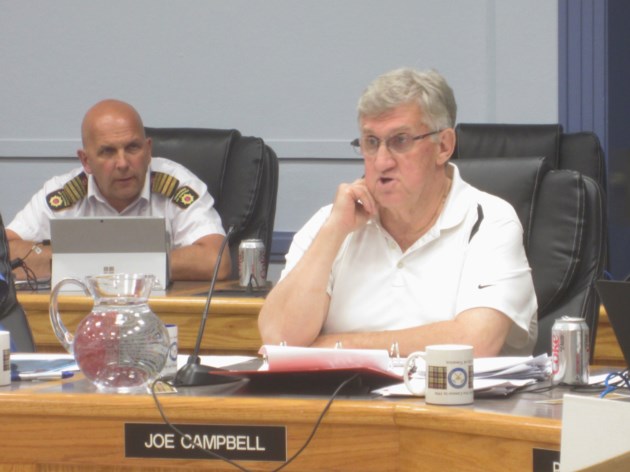 Timmins Fire Chief Mike Pintar (left) listens intently to Councillor Joe Campbell as he pushes for a plan to improve fire protection service to properties along the
Gold Mine Road corridor. Andrew Autio for TimminsToday
The issue of fire safety in rural residential areas was a hot topic this week at city hall.
Councillor Joe Campbell pointed out two serious fires that have occurred in the Delnite area over the past few years that have caused catastrophic damage to homes. He said in both cases, the fires were reported by neighbours well after flames were established.
"It's probably safe to say, that because of the lateness in reporting these fires, the resulting outcome may not have been much different even with hydrants," said Campbell.
"However, due to the lack of hydrants, it was necessary to shuttle water from the Vipond pumping station to the Delnite property, a distance of 4.2 kilometres. Also water from a swimming pool on the property was used, as was the assistance of the Ministry of Natural Resources who ran hoses from a pond about one half kilometre from the blaze," he said regarding the most recent fire in the area on May 19.
As councillor for the area, Campbell has previously mentioned the need for improved fire protection along the Gold Mine Road corridor which includes Delnite, Buffalo Ankerite, and sections of MacDonald Hill.
"I realize this is an expensive item. We've heard figures in the $12 to $14 million dollar range. Obviously this is not going to be able to be done in a period of a year, or two years, or three years, or maybe even four years," he said.
Campbell said that there are at least 61 residences who have a vested interest in the matter, and didn't care for the notion that it is a 'rural area'.
"This is not a cottage area. Along Gold Mine Road there are some very expensive houses that pay some very expensive taxes," he said, adding that the majority of the homes in the Delnite area have been paying taxes to the city for 42 years since amalgamation, and that the homes pay additional funds for insurance due to the lack of pressurized fire hydrants in the area.
Campbell said he asked if a report on a list of concerns and logistical possibilities could be ready by September but was advised by city CAO Dave Landers that it was unrealistic given the staff's current workload.
Ultimately, he wants to see a multi-year plan put together which would tackle the fire safety issue head on.
"I think the route to go with this, is to say to administration 'take your time, tell us what options we have around this table'. Bearing in mind we are strapped financially, there's no question about it. We have a lot of things on our plate, a lot of other issues," said Campbell.
Fire Chief Mike Pintar responded to comments about 'hydrants' spotted at various points along Gold Mine Road, closer to South Porcupine.
"Those hydrants are actually inactive hydrants because the pressure isn't there for us to use them. So any black hydrants, or black capped hydrants that you see, they're out of service," he said.
Ward 4 Councillor Pat Bamford said that past policy regarding 'rural' properties needs to be considered.
"Once again, when we talk about this, or we talk about rural roads, or whatever services are outside the built-up area, we're talking about people who have chosen to live in an area where there are either limited services, and they have chosen to either build or buy in that area knowing full well what the services are," he said.
"I sympathize with the situation that Councillor Campbell is talking about, but the situations like this are endless across the city. We have to be careful what we do here."
Bamford said he has heard similar complaints from residents in sections of his Ward as well, and that the argument that rural property owners pay taxes and therefore deserve all city services provided to residents within built-up areas holds little water with him.
"Your taxes are based on assessed value, which is based on market interest in your property, knowing what the services are."
Bamford said that he couldn't possibly vote for approving the running of a water line down Gold Mine Road unless those property owners paid a portion of the costs, up to 50 per cent. He strongly felt that it could be another 'can of worms' scenario, similar to the rural road winter maintenance debate which chewed up much of council's time over the past few years.
"I cannot see why we can sit around this table and suggest that people who are paying equal taxes or more, living in the built-up area of the city, why they should be subsidizing someone who wanted and preferred to live in a rural environment. This is a semi-rural or rural environment. It's not fair," he said.
Landers told council that despite being behind on other 'service enhancement' reports, if directed by council he could likely have a report ready sometime in the fall which could be discussed in 2018 budget deliberations.
Ward 1 Councillor Veronica Farrell said that before Landers and other city staff are tasked with the project, all other rural areas currently without fire hydrants should be also considered.
"I just think it would be a good idea, because I'm sure that if we go along with something like this I'm going to have people calling me and asking me if we can do it for Delnite, why can't we do it for Airport Road, for Kamiskotia Road, Mahoney, Sandy Falls. That's just my concern," she said.
Veteran Councillor Mike Doody pointed out the fact that at both the Delnite and Buffalo Ankerite properties, the mines which formerly occupied the areas provided fire protection service to those homes. Once the mines closed, fire protection was no longer a reality for those homeowners.
A resolution will be brought back for vote at the next council meeting, to direct staff to prepare a full report.