Peterborough fire chief stepping down
After 18 months on the job, chief announces he is leaving Peterborough to take on fire chief duties for Deep River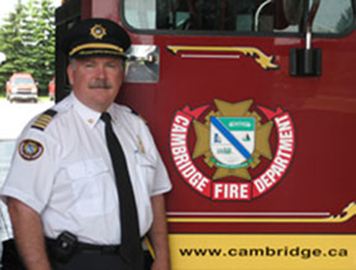 Fire chief Doug Tennant
Before coming to Peterborough, Doug Tennant worked at the Cambridge Fire Department. He is now leaving for Deep River.
PETERBOROUGH-- Peterborough Fire Services is on the hunt for a new fire chief.
The City announced Tuesday (Nov. 5) the current fire chief Doug Tennant has accepted the role of fire chief in the town of Deep River.
Chief Tennant's last day in the office will be Friday, Dec. 6, and he will assume his new responsibilities for Deep River Fire Department on Dec. 11.
His new position will allow him to work and live close to his extended family and support them in their residential and long term care needs.
Chief Tennant has been a member of the Ontario Fire Service since 1978 and held various fire-related jobs in Thunder Bay, Severn Township, and the City of Cambridge before becoming Peterborough's Fire Chief May 2012.
"I certainly enjoyed working with Chief Tennant," says Brian Horton, City chief administrative officer.
"Over the past 18 months Doug has made a significant contribution within Fire Services and to the community at large. We respect his decision to be closer to family and we wish him all the best in the future."
Link to article: After 18 months on the job, chief announces he is leaving Peterborough to take on fire chief duties for Deep River