Cause of deadly barn fire near St. Jacobs still a mystery - St. JACOBS — Investigators can't pinpoint the cause of a deadly barn fire July 12 near St. Jacobs.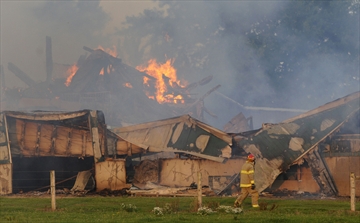 Barn fire
Mathew McCarthy,Record file photo
Flames destroyed this barn at 1636 Lobsinger Line on July 12. A boy, 2, is believed to have died in the inferno.
A two-year-old boy is believed to have died in the inferno, at 1636 Lobsinger Line, southwest of St. Jacobs. Neighbours said the boy was Steven Martin, who became separated from his parents in the chaos as flames engulfed the barn about 7 p.m.
"The cause is found to be undetermined" by the Ontario Fire Marshal's office, Deputy Fire Chief Dale Martin of the Woolwich Fire Department said Tuesday.
From the start, investigators suspected an electrical problem or spontaneous combustion of recently stored hay in the barn, but damage was too severe to pinpoint a cause, he said.
The metal roof collapsed as the barn burned, trapping the flames and heat that burned hotter and hotter, destroying everything inside. A fire marshal's office investigator led a search through the rubble, and believes the boy's body was consumed by the flames.
"It burned so hot, it was like a crematorium," Martin said.
Damage is estimated at $400,000.
Link to article: Cause of deadly barn fire near St. Jacobs still a mystery